Neocube Magnet Ball
Are you looking for an original totally unique gift which doesn't cost too much and which can be enjoyable for a long time? So you are on a correct page. We would like to introduce you the perfect gift which is called NeoCube. Sometimes you can find this item with a different name as BuckyBalls, CyberCube, NeonCube, The Neo Cube, MagCube, Nanodots, Zen Magnet, etc. The name of the product can be different but the function is still the same.
The NeoCube magnet ball is an entertainment device like no other in the world. The NeoCube is composed of 216 individual high-energy rare-earth magnets. This allows you to create and recreate an outrageous number of shapes and patterns. For many such object you will be first person who have created it. Neo Cube offer many different and uniqe solution. Most other games as rubik's cube, puzzles etc. have only one solution. The NeoCube is literally a puzzle with billions of solutions. Your NeoCube will provide you with hours and hours of unequaled entertainment!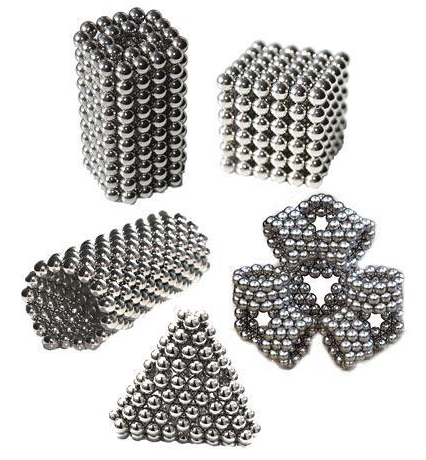 Features of Neocube Ball Magnet
NeoCube is the future of puzzles
Dual brain hemisphere stimulation
Gaming
Stress Relief
Boredom Busting
Available ball diameters: Φ 2, Φ 3, Φ 4, Φ 5, Φ 6
Golden color and silve color for your choice
More Pics of NeoCube
| | | |
| --- | --- | --- |
| | | |
| | | |
The Neo Cube offers you unlimited fun. Maybe you think how the neocube magnet ball can be a good toy, but after you have in the hand optimally 216 pcs magnet balls or can be more, you will see how the neo cube magnets are amazing. Use your brain and start with simple objects as Chain, Triangle, Hexagon etc., and later you can create more difficult puzzles, shapes, sculptures, patterns, etc. create and recreate. Or just try stick stuff to the fridge, think up a new game, trying to find something. Always more useful is useless. Buy more neocube set with some discount cupon or for better price without any copon and try make more neocubes shapes.