Magnetic Chuck
Dense Permanent Magnetic Chuck
Usage:
Permanent Magnetic Chuck for fastening thin, small Work piece on Grinding, EDM, especially in liquid.
Features:
Dense distance between magnetic poles (P+P1) reaches 1.5mm (1+0.5)mm and the product can get effective magnetic force
Using special sliding mode, can control the tolerance accurately
Permanent Magnetic Chuck
Permanent Magnetic chuck can be used for processing various magnetic conduction workpieces, especially thin and small pieces, in-surface grinder, tool grinder and electric sparks machine tools.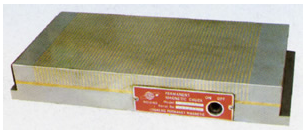 Standard Permanent Magnetic Chuck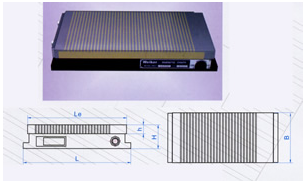 Features
Major applied in the field of grinding to fasten the work piece on EDM or surface grinder
Widely used and the cheapest permanent magnetic chuck
Distance between magnetic poles (P+P1) reaches 3mm (1+2)mm
Rotary Permanent Magnetic Chuck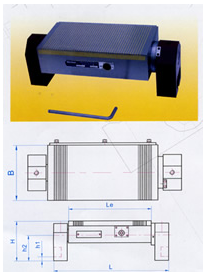 Usage:
Suited to angle grinding on the grinding machine.
Features:
The angle scale on the rotary shaft makes it easy to grind at any angle
High intensity, the chuck and the shafr as a whole
When Turning magnetic force ON/OFF the flat face's accuracy of magnetic force surface not changed.
Permanent Square Type Block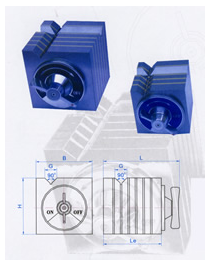 Usage:
Used in surveying, lineation and light process.
Features:
No damage to the measured goods, accurately tolerance mensuration
Above, both sides, V side, cross side have suction, could test the difficult special work piece
Simple handle-operated with spiral switch