LWM-1 Lifting Magnets (Normal Temperature Tolerance)
We produce diverse kinds of lifting magnets in large quantities every year. Round or rectangular. Welded or cast. Land use or diving. Normal temperature tolerance or high temperature tolerance. Single or cascade. When you needs lifting magnet, please feel free to contact us. You'll always hold a winning hand if you use lifting magnets!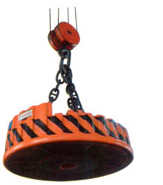 Technical Specification Voltage Rated 200DC Working Duration(TD): 60%



































Steel Remaind

er (Cool/Hot)



































































(For Reference Only)
Super-strong excitation, 290V DC for starting to lift, 200V DC for transporting.