Magnetic Dart Board
Flexible Magnetic Iron Sheet
Features:
Engineered to be receptive to magnetic material
Flexible, soft-magnetic material, can be used as wave-absorb appliance
Standard 0.7mm thickness, up to 1000mm width
Available in rolls, cut sheets
Vinyl lamination is available
Easy to machine cut, stamp, score and punch
Usages: schedule board, menus, signs, toys and games
Specification
| | | | | | | | |
| --- | --- | --- | --- | --- | --- | --- | --- |
| | | | | | | | |
| | | | | | | | |
| | | | | | | | |
| | | | | | | | |
Magnetic Dartboard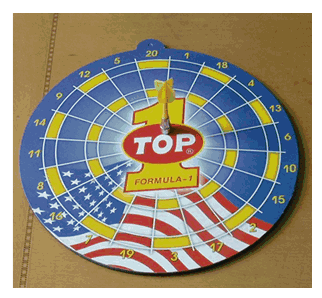 Normal dartboard using very sharp dart which is very dangerous and could hurt people if used unproperly. So it is not a good toy for children. However, our magnetic dartboard does not have such problem. Our magnetic dartboard is a toy which is very safe and full of fun, it uses a strong magnet on dart to replace the sharp tip. The board is produced using offset or silk-screen printed color soft material. Vivid colours and shapes make the dartboard be more fun.
Roll up magnetic dartboard provides traditional fun for the whole family. Held by magnetic force. This magnetic dartboard game is first to be patented worldwide. Darts are made of Nd Magnet which energize the magnetic field and land on your magnetic board with precision. Since darts are round (not sharp) your family can enjoy this game in safety. Due to enormous magnetic strength, dart hits and stick to the board easily. It is an excited game for your family.
Features:
With hard magnets in the front of the flayers and flexible rubber magnets inside the dartboard, magnetic dartboards are safer than traditional ones
Many series of magnetic dartboards in either square, round or some other shapes are available
Normal size: 6", 9", 10", 12", 15", 17"
Not for children under 3 years old
This special safe design and vivid board design can brings a lot of fun and safe to children.