Bonded Ferrite Magnets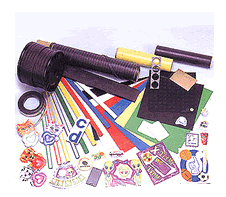 Rubber bonded ferrite magnets are made by consolidating Strontium or Barium ferrite powder with polymer matrix. Form in profiles, strip and sheets by extrusion/calendaring method.
It can be mainly used in magnetic attraction devices for the refrigerator, disinfector, furniture door, articles for culture and education, advertising signs, stepping motors, electronic equipments, magnetic therapy apparatus and sensors.
Natural thickness from 0.3 mm to 1.0 mm, width up to 650 mm and length up to 100 m
White or colorful PVC or PSA coating is available upon request
UV coating is available upon request
Magnetism can be applied either on one side or on both sides with multi-poles, pole distance is usually 2 mm
Artworks printing and die-cutting can be done as per customer's request