Injection Bonded NdFeB Magnets
Injection molded bonded neodymium irob boron (NdFeB) magnet are injection molded utilizing nylon 6 or 12 as the binder, and are available up to 4.5 MGOe, which is a kind of new-generation composite material made from permanent magnetic powder and plastic, has outstanding magnetic properties and plastic properties and features high size precision and exceptional shock resistance. injection molded neodymium iron boron magnets can be processed into various components with complicated shapes, thus can be used in the industries of micro or special motor, office equipment, instrument, meter, and beeper. Our high production techniques also allow for very tight dimensional tolerances for complete product optimization. Custom design available.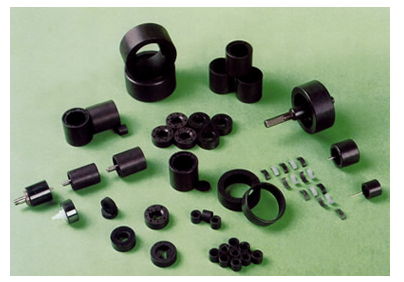 CHARACTERISTICS
Design and manufacturing of orientation moulds were carried out
Having high dimensional precision and impact-resistance
Capable of forming products with inlay
The injection moulding parts are suitable for forming products with various shapes and thin walls
Multi polar magnetization can be carried out as per customer's requirements
APPLICATIONS
Different kind of micro-special motor
Different kind of fan motor
Different kind of DC motor
Synchronization electric motor
House electric apparatus
Ice chipper electric motor
Hand-operated electric generator
Automobile motor
Time gauge
Instruments for auto
Manufacturing Method
NdFeB powder is blended with a plastic material and injection molded. The resulting parts have energy products in the 5 MGOe range, but can be made with extremely intricate shapes.
Physical & Magnetic Properties Of Injection Bonded NdFeB Magnet
Recoil temperature coeffiient of Br. (%/)

Ring crushing strength constant (N/mm

2

)
Typical Demagnetization curve of Injection NdFeB Magnet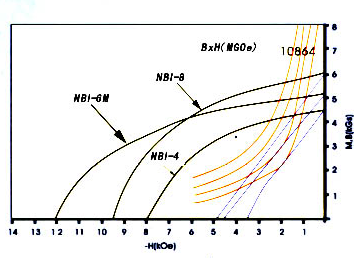 Temperature Characteristic Curve Of Injection NdFeB Magnet