Sintered NdFeB Magnet
Sintered Neodymium Iron Boron (NdFeB), the most powerful Rare Earth magnet available today, possesses high energranging from 8MGOe to 52MGOe and wonderful coercive force. As the third generation of Rare Earth permanent magnet, NdFeB products are quite a bit less expensive, and are mechanically stronger and less brittle than SmCo, also density of NdFeB products is about 13% smaller than SmCo products. Because NdFeB magnets are more prone to oxidation than any other magnet alloy, for most applications, coating or plating the magnets is recommended.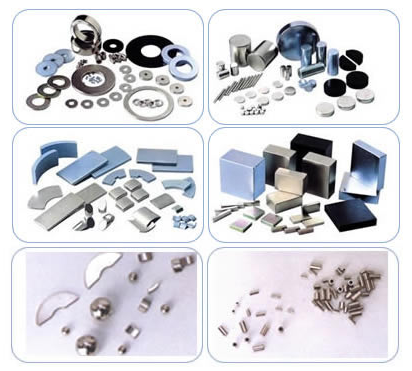 Super-Strength Rare Earth Magnet—Sintered NdFeB magnets, have the characteristics of:
 Extreme strong Br Resident induction.
 Excellent demagnetization resistance capability.
 Good Price relative to its high magnetic properties.
 Coating is needed for NdFeB.
Surface Treatment Method: Type InformationMetallic Zinc, Nickel, Nickel+Nickel, Copper+Nickel, Nickel+Copper+NickelGold, Organic Epoxy, Nickel+Epoxy coatingTemporary Surface: Passivation
Manufacturing Method:Sintered NdFeB Magnet —fine NdFeB powder is compacted in a die and then sintered, fusing the powder into a solid material. There are 2 forms of pressing: die pressing (which involves a hard die into which the powder is placed and then pressed), and isostatic pressing (involving a special "rubber" die into which powder is placed and then pressed with equal force in all directions on the powder). Die pressed parts are usually made smaller than isostatically pressed parts. Although the magnetic properties of isostatically pressed parts are higher, the uniformity of magnetic characteristics is usually lower than that of die pressed parts. Sintered parts normally need some finish machining in order to meet final tolerances.
Machining:Some machining operations may be performed on NdFeB materials using carbide tools, although surface finishes thus obtained may be less than optimal. In general, NdFeB magnets must be machined using diamond-grinding techniques. We are fully equipped to machine these materials to your blueprint specifications.
Magnetizing and Handling:Rare Earth materials are mechanically weak, and magnetically very strong. They must therefore be handled very carefully to avoid damage and injury to personnel handling the magnets.All NdFeB magnets require extremely high magnetizing fields and special consideration must be given to this when designing complex assemblies, if it is intended to magnetize after assembly.
Temperature Effects:Magnetic properties of NdFeB deteriorate rapidly above about 130°C, depending on the grade of material, and the permeance coefficient of the magnet in operation. The higher the permeance coefficient the magnet operates at, the higher the temperature it will withstand. High Hci NdFeB materials operating at a high permeance coefficient can operate to about 220°C.
Common Applications for Neodymium Iron Boron Magnets:Holding systems requiring very high holding forces, high field yoke magnets, high performance stepper, DC, servo, linear, and voice coil motors, magnetic bearings, magnetic couplings, loudspeakers, Halbach arrays, headphones, microphones, magnetic separation, instrumentation, switches, relays, magnetic resonance, sputtering, vacuum deposition, charged particle beam guidance, particle accelerators, Undulators, Wigglers, and others.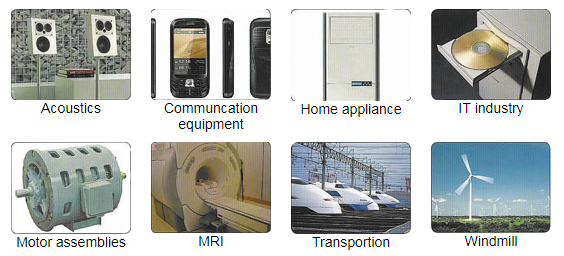 Shapes and Sizes Available:In addition to the stock shapes, sizes, and grades listed, others are available. Please inquire. Non-standard shapes and sizes can be fabricated to blueprint specifications from raw stock.
Magnetic and Physical Properties
Sintered NdFeB Magnetic Properties




















Intrinsic coercive force

iHc

Max. energy product

(BH) max

Working MAGNETIC AND PHYSICAL CHARACTERISTICS (NdFeB) Temperature











Remark: The above mentioned data of magnetic and physical characteristics are given at room temperature
** The open flux irreversible loss of the testing sample at this temperature ≤5%
| | | | |
| --- | --- | --- | --- |
| Other Physical Properties (Sintered NdFeB) | | | |
| | | | |
| | | | |
| | | | |
| | | Coef. of Thermal Expansion: | |
| | | | |
| | | | |
| | | | |
| | | | |